A little over 13 years go I packed up my car and moved here to Southern California. I left the place where I had done most of my growing up, where I had married my first husband, where I had my children, and where everybody I knew was. And I moved to a place where I only knew one person – my husband.
13 years later I no longer have that husband. But I do have the most amazing friends.  I've spent 13 somewhat happy years here and Saturday morning I say goodbye.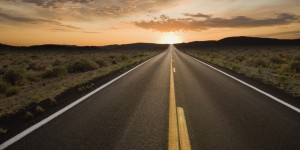 Leaving here is a lot harder than I thought it would be.
When I left to move here it was the right thing to do.  When you grow up in a small town and you live somewhere where everyone knows you it's hard to grow and to change as a person. People can't see you as anything other than what they've always known. And that can be tough.  A year before I moved here I ended a relationship that was tumultous to say the least. Three months after ending the relationship I married my husband. I suppose in many ways I was just running away, which isn't the appropriate response to much of anything, but at the time it just seemed like what I needed to do.  So I left.
I had never planned to stay in Southern California.  I'm not a big city girl. I love visiting the big city, but it's not where I want to live. I'm very much a wide open spaces kind of girl. The plan was to move back to Northern California after the husband had retired.
The husband did retire. And then we split up.  And if I had a nickel for everytime in the last three years I wanted to run away I could buy my own island. But Beav will still in school and I wasn't about to uproot his whole life.
A few years ago, four to be exact, I took a road trip to Canada. On the way I drove through Oregon and it was love at first sight. A year later I went back and I still loved it. Last year My Love and me went again (twice) and we both loved it and we knew that's where we were going to end up. We began making plans. I gave notice at work and we started packing the house up. The original plan was to move together but My Love has been busy with work to the point that he hasn't been able to do things that need to be done before he can move. After lots of conversation we agreed the best thing to do was for me to go first. I could find a place to live, look for work (more on that later) and "settle in."
Some change is unsettling for me. However big life changes such as the move, it doesn't faze me. I find it invigorating. But leaving Southern California won't be as easy as moving here was. Saying goodbye to my friends has been truly difficult and I've shed quite a few tears. The family of friends that have formed over the past 13 years is nothing short of incredible. Some of these people literally saved my life in ways that they don't even know during the past few years. These friends have watched my boys grow up, they've seen my marriage fall apart, and they've watched me fall in love.
I feel nothing short of blessed for the friendships that I have.  And I'm holding all my friends to their promises of coming to visit me lol.
Thirteen years ago when I packed up my car and hit the road I purposely played Rascal Flat's "I'm Moving On."  It seemed appropriate and fitting at the time:
"I've lived in this place and I know all the faces Each one is different but they're always the same They mean me no harm but it's time that I face it They'll never allow me to change But I never dreamed home would end up where I don't belong I'm movin' on"
This time I won't be playing that song. I do feel this move is the right thing for me. But this time I'm not running away. I'm running forwards. I'm running to something that's unknown but yet full of promise. It's time for the second half of my life to start. And I have no idea what the future holds but I can't wait to find out.