Archive for December 2015
If I were to make a New Year's Resolution one of them would be to post here regularly.
The holiday season is here.  I wasn't ready at all this year.  The move had a lot to do with it.  It just seemed like everything snuck up on me.  I hate that. I'm normally the one that has all the gifts purchased by November.  Not this year.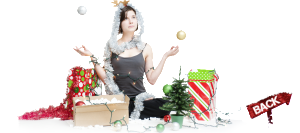 We've been in our house now for almost two months.  We literally have a basement full of boxes that we still need to go through.  Somewhere in those boxes are all of my measuring cups, measuring spoons, and my good kitchen knives.  My sister in law lent me a few measuring cups to get me through but I seriously need to find the rest of my kitchen stuff.
We definitely scaled down our  holiday stuff this year.  I didn't put as much decorations up.  It just seemed silly to go all out when Christmas is only two weeks away.  Plus I'd rather spend my energy actually unpacking my regular stuff. Oddly I'm okay with this more low key approach although I will admit I'm beyond sad that we're not having a holiday open house. It just seemed like too much to try to get something together.  I am dying to begin entertaining though. But I think that will have to wait until after the holidays.
One thing is for sure, this move was the best thing for us.  We are loving Portland and Oregon. Even with the non stop rain, which every local tells me is highly unusual, we still love it. We live in a great area with no shortage of great restaurants, food carts, and bars within walking distance. I'll admit it's hard to be motivated to cook when there are so many awesome options all around us.
Both my boys will be here for Christmas and I am beyond excited. It's been awhile since we've all been in the same house together, especially for a holiday. We're planning on a nice holiday dinner with my local family. The day after Christmas we're heading out to Bend to spend time with my brother there.  I'm looking forward to a little bit of down time and spending time with family here in Portland and in Bend.
I feel as if I've been holding my breath for the past few months waiting for my life to really get going. There are times when I still feel a little like that but I am settling in and starting to understand that life is moving along whether I'm ready or not.  I just wish it would slow down a little.
Title taken from "Hard Candy Christmas" – Dolly Parton
"I'll be fine and dandy Lord it's like a hard candy Christmas I'm barely getting through tomorrow But still I won't let Sorrow get me way down"